Keeping our patients and people safe
While we are welcoming visitors (see our visitor page for more details), we would ask that you:
Consider if your visit to the hospital is necessary at this time
Maintain social distancing and practice hand hygiene
Please do not visit if you:

Are feeling unwell
Are a close or household contact of someone who is ill
Our thanks for your support and understanding.
The Hills Private Hospital
The Hills Private Hospital is situated at Baulkham Hills, northwest of Sydney. It is an accredited 111 patient-bed hospital that cares for adults experiencing functional disorders. Our dedicated areas of care include rehabilitation and mental health.
Rehabilitation Services
The Rehabilitation Unit at The Hills Private Hospital supports 86-beds and specialises in the rehabilitation of people after surgery, accidents or injury. Our patients are cared for by our multi-disciplinary team that includes:
Rehabilitation Physicians
Geriatricians
Registered Nurses who specialise in rehabilitation
Highly-skilled Allied Health Professionals
Patient care
The multi-disciplinary team approach is to deliver exceptional treatment across several therapeutic areas for our inpatient or day patient programs.
They include:
Orthopaedic
Cardiac
Neurological
Trauma
Pain Management Rehabilitation

| | | |
| --- | --- | --- |
| Back Care Hydrotherapy | Cardiac Rehabilitation | Orthopaedic Rehabilitation |
| Falls Prevention | Neurological Rehabilitation | Reconditioning Rehabilitation |
Mental Health Services
Our mental health unit – Windsor Road Private Clinic is an accredited 25 patient-bed ward. Windsor Road Private Clinic offers various stages of care for people with mental health concerns - click HERE for more information.
Patient Transfer Service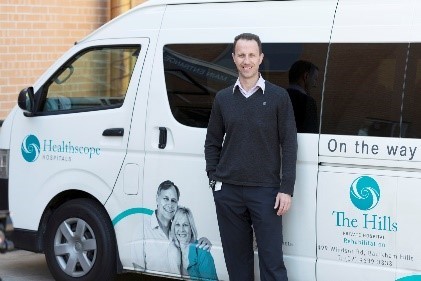 The Hills Private Hospital provides a patient transfer service for patients who are being admited to The Hills Private Hospital. Our patient transport service is available for people who require transport from an acute hospital (i.e. Norwest Private, Westmead Private, Sydney Adventist and Macquarie University Hospital). We also offer our patient transfer services from home or the community to The Hills Private Hospital.
These services include a wheelchair service for clients who require mobility support.
To arrange a patient transfer, please contact us on 02 9639 3333.
Inter-hospital transport is available from:
• Norwest Private Hospital
• Nepean Private Hospital
• The Hills community

Access to The Hills Private Hospital Rehabilitation Services

Access to The Hills Private Hospital is available via referral. Your local GP, physician or surgeon will be able to assist you with obtaining a referral to a private specialist who is accredited at the hospital and who can organise your admission or enrolment into a program.
Click the link below to view our referring doctors:
If you have a referral, please use our [online patient registration through e-admissions portal]. You will need information from your referral letter to complete an e-referral.